Mega Yacht Charter Gocek
Mega yacht charter Gocek options are limited when compared to motor yachts or Turkish gulets, since they are bigger , more expensive and mostly for private use. mega yacht charter.
number of guests you would like to accomodate, which country you would like to cruise, your preferred mega yacht charter period and your approx budget.
We ask you these questions and try to understand your desires are this will enable us to propose the right yacht and yachtcrew for you to make sure your mega yacht charter is as pleasant as possible.
The mega yacht charter prices including the yacht crew, fully equipped and insured.
in addition to yacht charter fee you will be charged for all other expenses at cost, such as fuel, food and beverages also any other special services you might require. these expenses are covered from a prepaid APA ( advanced provisioning allowance )
Mega Yacht Charter Gocek
mega yacht charter Gocek related costs, will require an advanced provisioning allowance called (apa) that is 25 % to 30% of the mega yacht charter fee. The apa is given to the captain two weeks before the charter dates to allow the captain prepare the yacht for your charter with Fueling and provisioning.
At the end of your charter the captain will provide you full accounts of all the expenditures to explain how the apa has been spent for and onbehalf of you. This accounting might end up either with a refund of the fraction of the APA if not spent or an additional payment to cover the shortage of expenditures might be requested if the apa is not enough.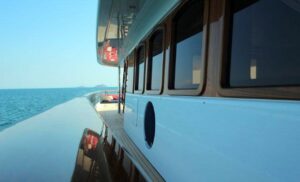 Upon signature of the contract you need to pay 50% of the charter fee to the stakeholders account and the balance 50 % payment together with apa payable two weeks or one month before your mega yacht charter gocek date.
Mega yachts are commercially registered ships and the vat is NOT included in the charter rates since the mega yachts are subject to value added tax
( VAT ) and the amount would depend on the port of registry and the flag country of the yacht and the country where the mega yacht charter gocek takes place.
Mega yacht charter Gratuities for the Yacht crew who are working relentlessy and very long hours to make the charter a successful one that it is customary to give a gratuity of approximately 10% of the charter fee depending on your satisfaction level. yachts for sale