Gocek Yacht Charter
Weekly charter in Turkish riviera and the eastern Mediterranean coasts deserves your consideration.
To cruise the golden beaches of Turkish Riviera on board Gocek yacht charter where the warm sunny shores and chrystal clear blue waters makes you feel like home …
The lush green pine forests surround the sunny shores, The green mountains are standing behind the blue coves to welcome yachting  enthusiasts. The small piece of land that separates the mountains from blue waters are full of joyfull holiday makers who have come from different places to enjoy Gocek yacht charter.
The small town called Gocek in the district of Fethiye, harbouring 5 internationally recognized modern marinas where thousands of beautiful yachts spend the winter.
Gocek Yacht Charter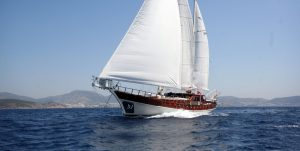 Hundreds of motor yachts and gulets are being moored in the municipality marina of Gocek where there are many schip chandlers and supply merchants offer their yacht services 24/7 yacht charter
We would like to invite you to enjoy cruising in the Turkish Riviera the Mediterranean on board of one of  Gocek yacht charter.
The professional yacht crew have been working in the blue water inddustry serving our clients with utmost care and attention.
Our performance is the result of three decades of working at sea and serving the blue waters tourism and industry. yacht charter in Turkey
You need to consider the number of cabins that can comfortably seat your guests. for the period of time you would like to have your yachting holiday.
For more information about your Gocek gulet charter, you can consult with our agents concerning your Gocek yacht charter to cruise the Turkish riviera and the greek islands…